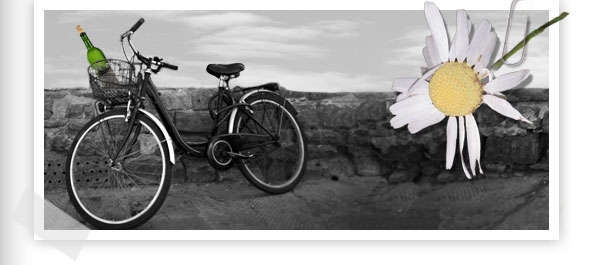 Healthy Choice – Don't Diet, Live Healthy – Fresh Baked Taste Review
Posted on Friday, August 30th, 2013
I'm back for my third and final Healthy Choice review. You can click on here to read my Healthy Choice Cafe Steamers Review from last week, and you can click on here to read my Healthy Choice Greek Frozen Yogurt Review from the previous week.
So far, so good.
Now let's see what the Healthy Choice Baked Taste Entrees have to offer.
The label informs us that we will be enjoying "Fresh Baked Taste in the Microwave." If you read my review from last week, you'll know I'm a bit of a skeptic when it comes to boxed dinners. I tend to cook from scratch, so I'm rather finicky when it comes to getting fresh baked taste in – gasp! – the microwave.  Okay, here's what I found…
Healthy Choice Slow Roasted Turkey Bake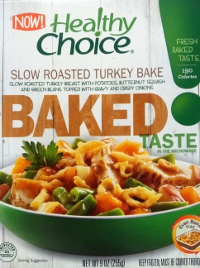 I must say, I was not expecting much flavor or texture.  I was pleasantly surprised.
The turkey was quite tender and actually had a true slow-roasted taste.  The squash had a good 'squashy' flavor and good texture.  The potatoes were not mushy or watery, which is always a concern when freezing and microwaving potatoes.  The beans also had a firm texture and tasted fresh.
The meal was not bland at all, which is a big thing in my book.
I would definitely try this entree again because it was probably the dish that surprised me the most.  Frozen and microwaved potatoes, squash, and beans that aren't mushy and flavorless was a very nice surprise.  The real roasted turkey taste came through, too, making this entree a winner.
Healthy Choice Fettuccini Alfredo Bake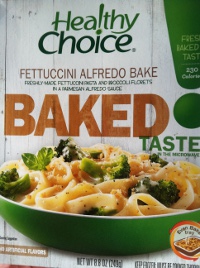 I was surprised by this meal, as well. I basically expected a creamy noodle dish that had cheese in it, which wouldn't be all that bad, eh?
What I was pleased to discover was how the broccoli stood out and was a star of this dish. Now don't get me wrong; I like noodles and cheese, but I think eating healthier means broccoli should be a main ingredient. And, not only was it a main ingredient, but the broccoli tasted fresh and had a nice texture, too.
And speaking of texture, the pasta was very nice and 'al dente.' The sauce was smooth and creamy, with a delicate, not heavy, cheese taste. There was a touch of crunchy topping, too. I did sprinkle a little grated Parmesan cheese on top just to finish it off, but the flavor was good without it.  And, last but not least…
Healthy Choice Lasagna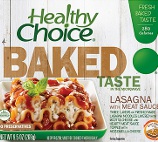 My friend Barbara over at FriendForTheRide.com had a little fun with her review of this entree, so I thought I'd share her post here. Just click on to take a look: Doll Downsizing and Lasagna For All
I liked this dish.  The pasta stayed al dente, and the tomato sauce was slightly sweet with a good 'tomato taste.'  The meat was spicy; definitely not bland, which you may have already noticed is something I value.
Letting it stand 5 minutes after microwaving (like directions say) works – the lasagna goes from slightly soupy to solid, which makes it easy to serve on a plate.  I would try this entree again.
To take a look at some of the other baked entrees, click on this link:  Healthy Choice Baked Taste Entrees
Well, that's it.  I think I gave the Healthy Choice products a good try.  I can see buying a few of the Cafe Steamers and Baked Entrees to keep in the freezer for quick meals, and I can definitely see having some of the Greek Frozen Yogurt on hand, as well.
I hope you will give them a try, too!
p.s. For money-saving coupons from Healthy Choice, click on this link: HealthyChoiceVNOffers
http://www.bit.ly/HCOffers
Full disclosure: All this yummy taste-testing is by way of an invitation from the Vibrant Influencer Network Healthy Choice Campaign. I have received free coupons for these items, for which I am offering my honest opinion about this product in this blog post. I have not been influenced by Healthy Choice, Vibrant Nation, or any other reviewer. Along with the coupons, I am also being compensated in money for my participation.
http://www.vibrantnation.com/vibrant-influencer-network/
Subscribe to RemarkableWrinklies.com by Email
2 Responses

to
"Healthy Choice – Don't Diet, Live Healthy – Fresh Baked Taste Review"
Hi Patti and thanks for sharing your thoughts and taste buds in reviewing these products. I have been attempting to eat better these last few months and need to step it up a notch or two!

My only concern about these products is that I do not own a microwave. I gave away to my son years ago and I now either use the stove top, oven or my handy all-purpose toaster oven 🙂

Do you know if these can be heated in a toaster oven or am I out of luck?

Thanks again and take care. Hope all is well.

Lyle

Thanks for stopping by, Lyle.
That is an interesting question. I really don't see why a person couldn't remove the contents from the package and put them in a small oven-proof casserole dish and pop them in a toaster oven. Cover it with a little aluminum foil and heat it slowly and see what happens.
Good luck and happy healthier eating!
Patti
Leave a Reply