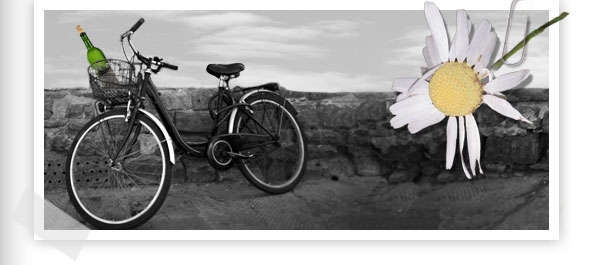 Healthy Choice – Don't Diet, Live Healthy – Cafe Steamers Review
Posted on Thursday, August 22nd, 2013
Give Healthy Choice Cafe Steamers a try, especially if bland food gives you the blahs.

Last week I reviewed the Healthy Choice Greek Frozen Yogurt and honestly thought; "How bad can it be, right?"  Well, I was not expecting such a rich, satisfying treat without all those nasty calories.  But, I got it.  You can read more on that review by clicking right here:  Healthy Choice-Greek Frozen Yogurt Review
This week I was very skeptical about trying a – gasp! – boxed dinner.
Since I've been eating healthier, I have been cooking more whole foods.  So, eating a prepared dinner in a box was not exactly something I was thinking I'd do… ever again.  I've gone that route through the years and discovered that most meals-in-a-box tasted bland.  Really bland.
I opened my first Healthy Choice Cafe Steamer and was very surprised.  They come in a little 'steamer basket' that goes right in the microwave.  After the cooking time is up, you peel it open and dump the ingredients from the basket into the sauce that is in the bottom bowl, stir it up, and enjoy.  Here are the two meals I tried for this review.
Healthy Choice Asian Inspired Spicy Chicken.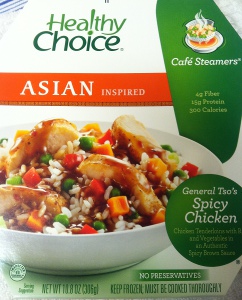 It actually tasted better than some of the take out meals I've had. Honestly.
It was not overly sweet, and it didn't have that too-thick cornstarch sauce that sometimes comes with take out.
The veggies were not mushy and the chicken was tender and juicy, not dry in the least.
Again, this was NOT a bland meal at all. When they say spicy, they mean it.  With the slight sweetness, the spicy flavors balanced very well.  I would buy this.
Regarding the nutrition facts:  With only 30 calories from fat, 50% Daily Value of Vitamin A, and a healthy dose of 15 grams of protein, this meal is very respectable.
Healthy Choice Top Chef Inspired Chicken Pesto.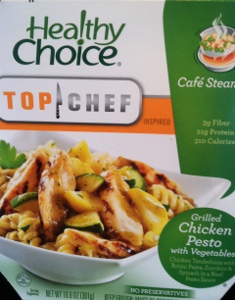 As I said, I'm skeptical about a boxed dinner to begin with, but then a dinner with pesto?  Well?
Basil is a tricky ingredient.  If you use too much, it can really make the dish, how shall I say… 'urpy.'  If you don't use enough basil, the dish will be bland.
I liked this meal.  The pesto was a perfect blend, the chicken was tender and moist, and the veggies were delicious.  The pasta was also al dente.  I'd have to say, when I need a quick meal, I would choose this.
Regarding the nutrition facts:  With only 80 calories from fat, 10% calcium, lots of niacin, B12, and folic acid, AND a whopping 21 grams of protein, this is definitely a nutritious meal.
Putting an assortment of these Healthy Choice Cafe Steamers in the freezer would certainly solve the "I need something good to eat, quick!" problem.  They are definitely NOT bland, they offer nutritional balance, and there are no preservatives.  And, as my daughter said; "It sure beats a trip to a fast food joint!"
I have to say the Healthy Choice Cafe Steamers are winners.  Check out the entire line of Cafe Steamers by clicking on here:  Healthy Choice Cafe Steamers
p.s.  If the plastic inserts (the steamer basket and bowl) are a concern, consider two things;  they are recyclable AND they are very useful.  I saved both the bottom bowl and the steamer to use to microwave other foods.
p.p.s.  For money-saving coupons from Healthy Choice, click on this link:  HealthyChoiceVNOffers
http://www.bit.ly/HCOffers
Full disclosure: All this yummy taste-testing is by way of an invitation from the Vibrant Influencer Network Healthy Choice Campaign. I have received free coupons for these items, for which I am offering my honest opinion about this product in this blog post. I have not been influenced by Healthy Choice, Vibrant Nation, or any other reviewer. Along with the coupons, I am also being compensated in money for my participation.
http://www.vibrantnation.com/vibrant-influencer-network/
Subscribe to RemarkableWrinklies.com by Email
2 Responses

to
"Healthy Choice – Don't Diet, Live Healthy – Cafe Steamers Review"
I am curious as to their salt content … will check that out as these would be easy, quick lunches at work. Thanks for the review Patti.

Hi OSS,
Yes, please do check the sodium content before buying. I am not on a salt restricted diet, so some salt is just fine with me. I do watch out for other things like sugar, fat, and carbs, and the nutrition labels have become my best friend. And it's cool to see the vitamins, minerals, protein, etc. I do cook most of my food from scratch, but I must say it is nice to have a few quick meals in the freezer.
Thanks for stopping by!
Leave a Reply