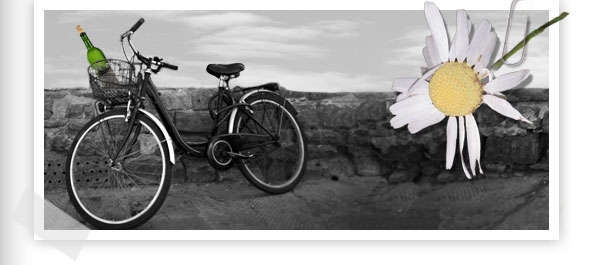 Healthy Choice – Don't Diet, Live Healthy – Greek Frozen Yogurt Review
Posted on Tuesday, August 13th, 2013
I used to be able to eat a bag of M&M's and not gain an ounce; but those days are gone.
I used to be able to eat a big bowl of ice cream and not gain an ounce; but those days are gone, too.
Since crossing the 50 year old (plus) mark, and becoming a member of The Great Pause Club, I find I am not able to indulge in overindulging without some consequence – most notably, weight gain.
Through the years, I have found several diet programs that helped whittle away the pounds. After following a couple different plans, I discovered that a combination of programs worked best for me.  And, let me just say, desserts weren't exactly a part of any of these plans.
However, there was this little tiny ray of sunshine in each diet program – sort of an asterisks, if you will:
You can enjoy small portions of your favorite dessert – but they have to satisfy!
And if I learned anything studying all those diet programs, I learned that you can be satisfied with small portions if those portions have the right amount of creamy goodness.
And, these little portions of Healthy Choice Greek Frozen Yogurt are perfect!  (Click on this link to take advantage of the coupon Healthy Choice is offering us.)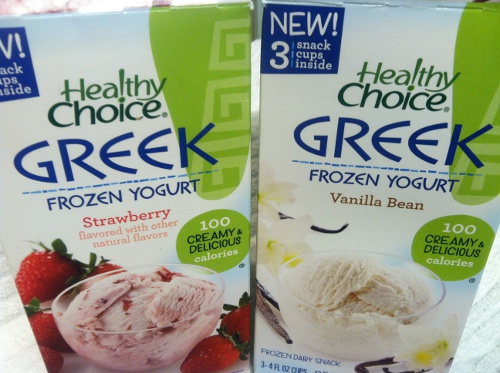 I picked up the Strawberry to try first.  It took me just one bite to know this was a treat I could enjoy with pleasure!  The people at Healthy Choice get it – you have got to have the cream to feel satisfied!  How they accomplish this in only 15 calories from fat, is beyond me.  This frozen yogurt is creamy, not too sweet, and actually tastes like fresh strawberries, and not strawberry jam or jelly.  This was a winner!
Then I got my husband to try it, and he agreed.  He even said he'd pass on his bowl of ice cream and enjoy the frozen yogurt instead!
The next night we tried the Vanilla Bean.  When I opened the cup, I was delighted to see the pretty little specks of real vanilla bean in it. Again, the texture was creamy; similar to heavy cream, with that nice coating it makes in your mouth. It had a nice, light, refreshing flavor, not super sweet like you expect from French Vanilla ice cream, for instance. We were both pleasantly surprised at how satisfying it was, again.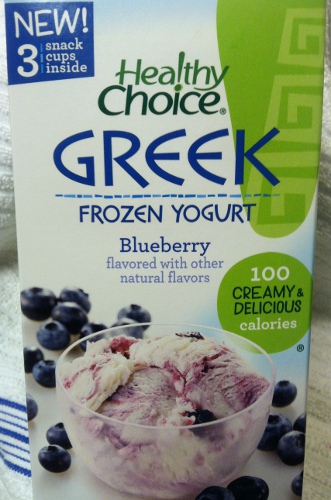 The fact is, we liked these little cups of Greek Frozen Yogurt so much, we went to the store and bought the Blueberry.
Once again, we were not disappointed. It was creamy, not too sweet, and tasted like fresh blueberries, not some kind of jam or jelly.
The result?  The three flavors we tried – Strawberry, Vanilla Bean, and Blueberry – were definitely worth trying.  They were very rich in texture, were very creamy (aka satisfying), and tasted fresh, not too sweet.
I've been enjoying Greek yogurt for quite some time now. One of the reasons is because it is packed with protein (more than regular yogurt).  On the diets I have followed, eating low carb and high protein is the goal.  Even though the Greek Frozen Yogurt from Healthy Choice has carbs, it also is high in protein, has some fiber, and as a nice bonus, has a healthy dose of calcium, too.
Over all, this is a nice treat, in a small portion that packs a lot of satisfaction, without going overboard on fat, sugar, or carbs. And, when you consider the added protein and calcium, this is one dessert or snack I will enjoy without guilt!
Be sure to check out all the delicious flavors by clicking on right here:  Healthy Choice Greek Frozen Yogurt
p.s.  Oh, and I always enjoy foods that have a little fun with their packaging – even serving as inspiration!  I couldn't resist sharing these thoughts from the good folks at Healthy Choice:

p.p.s. Also note the nice big tabs to pull off the sealed top. It's nice not to have to struggle figuring out how to open something. Thanks, Healthy Choice!
Full disclosure: All this yummy taste-testing is by way of an invitation from the Vibrant Influencer Network Healthy Choice Campaign. I have received coupons for free frozen yogurt, for which I am offering my honest opinion about this product in this blog post. I have not been influenced by Healthy Choice, Vibrant Nation, or any other reviewer. Along with the coupons, I am also being compensated in money for my participation.
Subscribe to RemarkableWrinklies.com by Email
5 Responses

to
"Healthy Choice – Don't Diet, Live Healthy – Greek Frozen Yogurt Review"
Leave a Reply
More Like This
dessert
,
dieting
,
frozen yogurt
,
Greek frozen yogurt
,
Greek yogurt
,
Healthy Choice review
,
healthy diet
,
healthy snack
,
review
,
snack
,
Vibrant Influencer Network
,
Vibrant Nation
+ Categorized as
Aging Well: Diet Health Fitness Menopause