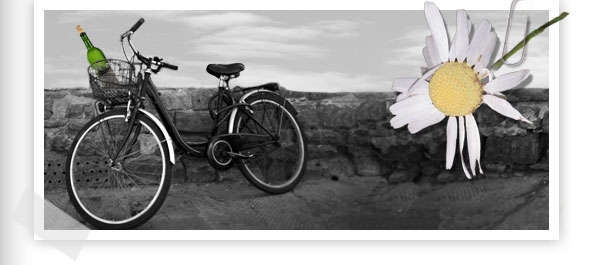 Weekly Photo Challenge: The Golden Hour
Posted on Friday, July 12th, 2013
Our Weekly Photo Challenge is all about light, but not just any light… a photographer's 'golden hour.' I love the different light as we go through the day, but especially the very odd light in the early morning, and the very soothing light as the sun goes down.
A couple weeks ago I joined the challenge with a submission of another sunset, so I hope this isn't being too repetitive.  However, last time I was intrigued by how similar the sunsets were across a continent.  This time I'm thinking how similar the sun is at dawn and again at dusk.  You can see my previous submission here:  Weekly Photo Challenge: Companionable
Both of the pictures here were taken on the same day at Pensacola Beach – one as the sun was rising and the other as the sun was setting. I was standing on a balcony looking east in the morning, enjoying my cup of coffee, then standing on the same balcony looking west, sipping my glass of wine. THAT was a good day!
Be sure to go see all the entries at the WordPress Weekly Photo Challenge: The Golden Hour.
AND be sure to comment with your thoughts below.  Thank you!
Subscribe to RemarkableWrinklies.com by Email
6 Responses

to
"Weekly Photo Challenge: The Golden Hour"
Leave a Reply