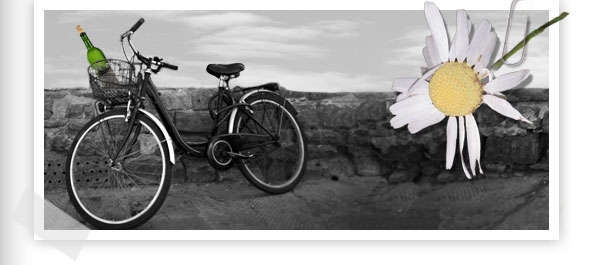 7 Links Challenge – Bloggers Share Their Journey
Posted on Tuesday, August 31st, 2010
Bloggers have stories to tell about the stories they tell.
I have been inspired by David Damron of TheMinimalistPath.com , who was inspired by Darren Rowse of ProBlogger.net , who was inspired by Dragos Roua of DragosRoua.com , to take up the 7 Links Challenge.
This is a challenge to fellow bloggers out there, big and small, to share their blogging beginnings, along with high-lights and low-lights through their blogging journey.
If you're a blogger reading this, I hope you'll take up the challenge and post your own little compendium of your blogosphere.  So, here goes – my answers to the challenge:
1.  Your first post.
I guess I was just letting folks know what I was feeling.  Humble beginnings?  Oh yeah, but a good overall thought, I believe.  For anyone who's ever said "I wish I could fill-in-the-blank."  See what you think:
2.  A post you enjoyed writing the most.
Awwww… nostalgia.  Growing up in a family of 13 in the old days.  This is a favorite subject of many people my age and older.  I think the freedom we had (unsupervised folly?) back then created many "remarkable wrinklies" today.  I hope you'll enjoy reading this post as much as I enjoyed writing it:
3.  A post which had a great discussion.
How old is old?  You're only as old as you feel.  Is that the right answer?  Well, there are certain things a person starts to notice as she or he turns 50, 55, 60…  Some of those things are bad, some are good, and some are just funny.  Here's what I said about that:
That blog post, or more specifically the comments on it, prompted the follow up blog which explores aging through adversities, pain, trials, and celebrations.  And, yes, you can be a strong, healthy, active, spirited person at any age… but that doesn't mean you are getting a "Get Out Of Jail Free" card.  You are STILL aging and experiencing all that entails – good, bad, and everything in between.  I hope you'll take a minute to read the post that follows, as it gets a bit personal:
Despair Through The Decades or Live Like You Mean It
4.  A post on someone else's blog that you wish you'd written.
This is a no brainer for me.  My daughter, Nicole Dean of NicoleOnTheNet.com has a series of blog posts that explores the strange things people will buy and why we, as bloggers, should remember that there is a niche for just about EVERYTHING!  Check out Nicole's series:
5.  A post with a title that you are proud of.
I'm going to cheat again and give you two.  One is my Fitness Over 50 series in which I used a familiar phrase I learned from my Marine Corp Mother:
Drop And Give Me 30 – Fitness Over 50 Series
The other one was sheer fun.  On the occasion of Barbie's 50th birthday, I decided to remind her to appreciate her firm little plastic self.  The title was  just a take-off on all of Barbie's career titles over the years (Pilot Barbie, Doctor Barbie, NASCAR Barbie, etc).   Considering that I didn't know anything about keyword research at the time, it's amazing to have stumbled upon this simple SEO perfection.  Lots of people find me with this title:
6.  A post that you wish more people had read.
I'm fond of this little post I wrote using Ginger Roger's famous quote.  It speaks to me about how, even when faced with difficulties, people can do so many remarkable things.  I hope you'll be one of the few people to read it (you get to see a video if you do!):
7.  Your most visited post ever.
This series of posts started as just a fluke.  I saw a funny video posted by my friend Susanne Myers of HillbillyHousewife.com on her membership site.  I blogged about this wonderfully funny speaker, Jeanne Robertson, and I got so much traffic on it that I decided to see what else Ms. Robertson had to offer.  There is no affiliate program for this stuff… it just makes me laugh and the traffic keeps coming.  I hope you'll take a peek so you can see what I mean:
Jeanne Robertson – Speaker, Humorist, with Left Brain Husband
Well, that's my tour.  I hope you enjoyed the time you spent here with me at Remarkable Wrinklies.  Please come again soon!
p.s.  Now it's your turn.  Take up the 7 Link Challenge and share your own journey through the blogosphere.  Link back to me at RemarkableWrinklies.com so I know you're out there and can come visit you!
Subscribe to RemarkableWrinklies.com by Email
Leave a Reply