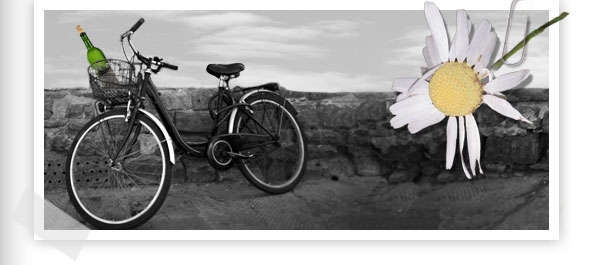 The Real Gifts Of Christmas Morning – An Unexpected Miracle
Posted on Wednesday, December 24th, 2014
Some years ago, I shared this Christmas story in a post right here on Remarkable Wrinklies. Then, to my great surprise, Lisa Winkler asked me if I would like to contribute to a book in which she was compiling "slice of life" stories. I was thrilled to be a part of Lisa's project and decided to include this story in her collection entitled Tangerine Tango – Women Writers Share Slices Of Life
This Christmas I thought it would be fun to bring my story back, especially since I am back on my home soil in Wisconsin. I hope you'll enjoy reading (or re-reading) this little glimpse into a Christmas long, long ago, and celebrate with me the miracle that can happen on a Christmas morning even in the strangest circumstances…
Merry Christmas!
Family Christmas – Memories of the real gifts of Christmas morning.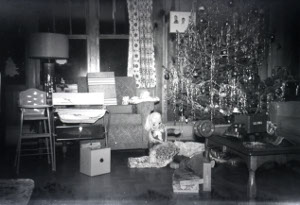 If you grew up in the 50s and 60s like me, you may remember scenes similar to this at Christmas time.
This is my family Christmas. Big tree. Much anticipated presents. All about the kids.
This is as it should be.
We didn't have a big glitzy set up. What we had was a lot of wishes and hope and excitement… and parents who were willing to make Christmas a time of magic for us.
I'll share a quick story here about one particular Christmas that stands out in my memory. I don't even remember the presents. What I remember is how the magic of Christmas was preserved for us kids in a most unexpected way.
It was Christmas morning 1960. We all got up in the typical rush to the stockings and the tree, only to be stopped in our tracks by Dad digging around in the hallway closet. Now, Dad was a big man and this was a small closet, so the sight alone was comical. But, what was even funnier at the time was how Santa had left all the Christmas presents in the closet instead of under the tree!
There was Dad, pulling toys out of the closet, some wrapped, some not, and saying "Santa must have been in a hurry. He left all the presents in the closet. Oh, here's one for Mary Lee, and this must be for Annabelle." (Dad always called me Annabelle.)
What happened? And where was Mom? Well Santa brought us another present in the middle of the night. A baby brother. Yes, my brother was born on Christmas Eve. So, "Santa" was a little too busy to get the gifts under the tree.
As I got older, I laughed more and more at this memory. There was Dad, up all night, and Mom, having given birth, trying to figure out how they were going to preserve the magic of Santa and Christmas morning for us kids at home. Can you imagine Mom in the hospital that morning instructing Dad about where the gifts were hidden and who was getting what!? To have the presence of mind after giving birth to direct Christmas morning from her hospital bed!
The more I think about it the more I realize THAT is the magic of Christmas. My parents making sure that all seven of us kids at home were given a magical Christmas morning, no matter how difficult.
Wow. Today I marvel at this. I see the rush and the struggle that young families go through trying to get all the gifts, decorations, baking, and cooking done just right for Christmas morning. Then I think of my Mom and Dad and how they managed to keep the magic of Christmas morning alive for us kids, even in the midst of having a baby!
And, what an irony. The fact that the birth of a baby didn't stop the magic of Christmas morning. Now THAT is something to ponder on this Christmas Eve!
Thank you for the magic, Mom and Dad.
And Happy Birthday, baby brother.
Have a very Merry Christmas and keep the magic alive in your family and in your heart!
Subscribe to RemarkableWrinklies.com by Email
3 Responses

to
"The Real Gifts Of Christmas Morning – An Unexpected Miracle"
Such a great memory! Merry Christmas to you!

And a Merry Christmas to you, Patti! So good to connect again. I suspect you are the Patti Johnson on Facebook I've seen popping up once in a while, yes? This is so funny!

And, have a Happy New Year, too.

Oh, and Patti, if you haven't seen this post, it will surely bring back memories! It's one of my favorite:
In A World Before Helmets
Leave a Reply