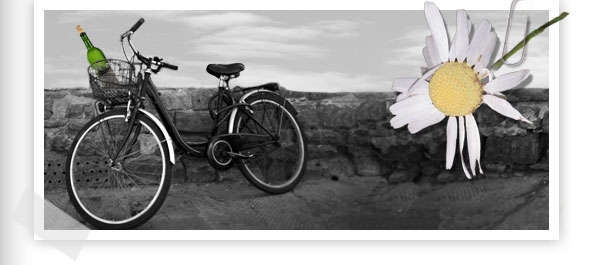 Weekly Photo Challenge: Nostalgic
Posted on Friday, July 5th, 2013
This is my second Weekly Photo Challenge entry.  I hope you enjoy it.  I got some nice compliments on my first entry – Companionable.  It was great fun meeting new people here in the blogosphere.  Be sure to click on this link to see all the entries for this week's challenge – WordPress Weekly Photo Challenge.
So, nostalgic.  Well, you are singing my song!  I love traipsing down Memory Lane.  But first, let's see what the definition is, shall we?
nos`tal´gic
a. 1. Of or pertaining to nostalgia; affected with nostalgia.
nos`tal´gi`a
n. 1. (Med.) Homesickness; esp., a severe and sometimes fatal form of melancholia, due to homesickness.
Yikes!  "affected"  "fatal"  "melancholia"???
I know I am wont to travel the nostalgic highway from time to time, even suffering from a bit of homesickness and longing for the 'good ol' days.'   But "fatal?"   No, I don't think so.  Okay, that definition came from the 1913 Webster dictionary, so perhaps the times were different; or at least the definition was.
This week, I want to share some family pictures.  That should be nostalgic enough, right?  But, how about some pictures that were long lost… then found.
After Mom died, we found seven old rolls of film.  It took a lot of searching to find someone to develop them, but I finally did.  I stumbled upon Gene's name in a forum as I searched for anyone who could develop old (not sure yet how old) film.  I emailed him and within minutes I got a response:  "Yes. I can develop your film."  With waves of relief and joy washing through me, I proceeded to make arrangements to ship off the film to Gene.  (Gene develops old film he finds in cameras or that people like me send to him.  Take a look at his work here:  Found Film)
The next weeks proved to be some of the most incredibly nostalgic moments I have ever experienced.  Not knowing how old those rolls of film were, and not knowing at all what was on the film OR if they could even be developed, had me nervous, anxious, scared, and hopeful.
What happened was a journey.  When Gene emailed me with "here's the first roll," I was scared.  What if it didn't work?  What if those rolls of film were too old to process?  Then I thought about how silly that sounded.  After all, they were missing all these years, so if there was nothing there, we didn't lose anything, right?
Wrong.  The idea of what was possible – seeing images from our childhood that had never been seen before – was thrilling.
I opened that email, clicked on the link, and saw the first image… and cried.  I cried because I was happy to see the images were saved.  I cried because I realized my Mom took those pictures and never saw them.  I cried because I missed those times.
If being nostalgic means being "affected with nostalgia," then that's me.  These images were validation.  I was looking at my memories in black and white.  My memories were out of my head and in front of me.  There were images of things I remember but had not seen.  I experienced those moments, but couldn't assimilate them somehow… until now.  I vaguely remember being in a ballet recital, but then actually saw myself in the tutu my Mom sewed for me and my sister.  I remember the Christmas tree and school program, but now I have a picture of the tree and my brother in his shepherd costume.  I remember my first day of school, but didn't remember what I was wearing or how I looked.  Now I have a picture to show me.  I remember those big birthday cakes that Mom worked so hard on.  And there it was.
This film was over 50 years old.  The memories have faded, but those pictures brought it all into focus again.  I hope you enjoy my little nostalgic indulgence.
Birthdays and holidays were wonderfully festive in our house.  Even with 11 kids, my Mom and Dad did their best to celebrate each and every occasion.  We were at the center of their lives.  As I look through the pictures from the 'found film,' I noticed (and Gene noticed, too) how all the pictures were of us – the kids.  There wasn't one photo (unfortunately) of Mom or Dad.  You can catch a glimpse of my Mom's arm serving birthday cake, or Dad's arm on the table, but that's it.  The focus was on us.
I hope you enjoyed these pictures from my years growing up.  Feeling nostalgic can sometimes glorify the past and not present the past in a real light.  Of course, like most people, I didn't get to live a life filled with nothing but huge birthday cakes and wonderful Christmases.  But, that's okay.  We all have good times and bad.  But, as I like to remind myself; "You get to keep the good stuff."  These nostalgic memories are a way to honor the good my parents provided us.
I think that's what the word "nostalgic" should be about – honoring our past.
p.s.  Don't forget to click on and read more from the Weekly Photo Challenge right here:  Nostalgic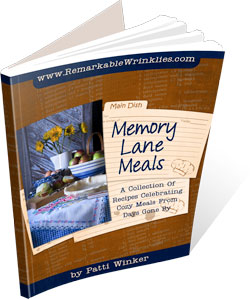 p.p.s.  Being nostalgic often gets me thinking about my Mom's kitchen.  Because food and memories are so intermingled in my mind, I decided to put my collection of old time recipes together in an ebook – Memory Lane Meals.  This is my way of honoring my Mom and the hours and hours and hours spent in the kitchen surrounded by food and hungry kids.  I hope you'll take a look.
Subscribe to RemarkableWrinklies.com by Email
10 Responses

to
"Weekly Photo Challenge: Nostalgic"
Leave a Reply