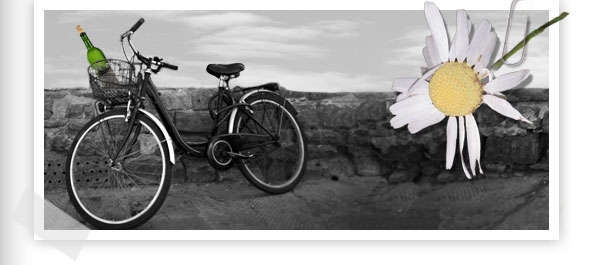 Well, Blow Me Cool – Honest To Goodness Hot Flash Relief
Posted on Wednesday, August 14th, 2013
The Little Fan That Blows!
Well, I've been having a bit of fun with the name of this fan.  But, even better than that, I've actually FINALLY found REAL RELIEF for hot flashes!
The folks at BlowMeCool™ have created a little hand-held fan that works. Just take a look at this cool lady…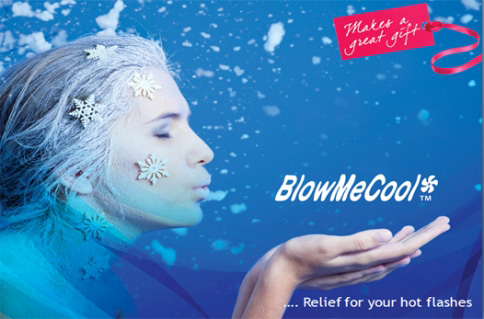 Oh yeah… that's c-o-o-l.
Truthfully, hot flashes are not funny.  For anyone who hasn't had the pleasure, a hot flash is NOT getting hot; it's burning up and then melting into a puddle of sweat. Personally, it starts at my neck and then spreads down my chest and up into my scalp. Trust me, when your scalp sweats, you are not laughing. Your hair gets soaking wet, dripping hairspray and gel and whatever into your eyes and plastering your hair down nice and tight to your head.  Lovely, eh?
So, the best thing we can do (next to cool off with the BlowMeCool™ fan) is laugh.
Here is one of the most descriptive looks at hot flashes I have ever seen.  Please click play and have a laugh or two:
Thanks for sharing, BlowMeCool™ folks!
So, what do I like about the BlowMeCool™ hand-held fan?
Made to fit in even a small hand.
Recharges in a USB connection (lithium-ion battery.)
Will run for 2 hours on a full charge.
No exposed propellers or blades.
Has a gentle stream of soothing air.
Has a tab at the top suitable to attach a chain or lanyard for hands-free cooling.
Now for even more fun!
The good folks at BlowMeCool™ have offered you, my readers, a 10% discount when you purchase the BlowMeCool™ by clicking on this link and entering the code – RW2013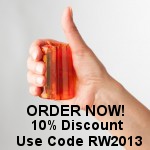 Whether you are struggling with hot flashes, night sweats, or just have times when you could use a little fan that provides a nice cooling breeze (think summer concerts in the park), the BlowMeCool™ is the answer!

Click on this link and order your very own personal cooling device today!  Remember to enter code RW2013 to receive your 10% discount.
Don't let another day go by without this little fan. You may not be able to stop the hot flashes, but you can sure cool 'em down!
Thank you for reading and let's all stay cool, shall we?!
*And, here is where I give you my 'full disclosure' stuff.  The folks at BlowMeCool™ gave me a fan at no cost in exchange for my honest review of this product. They also included me in their affiliate program, which means I receive a percentage when I refer a buyer. If this bothers you, simply go to their website and place your order directly through them. Thank you.*
Otherwise… Please take advantage of the 10% discount on RemarkableWrinklies.com.  Just enter the code – RW2013 – when you place your order.
Subscribe to RemarkableWrinklies.com by Email
Leave a Reply