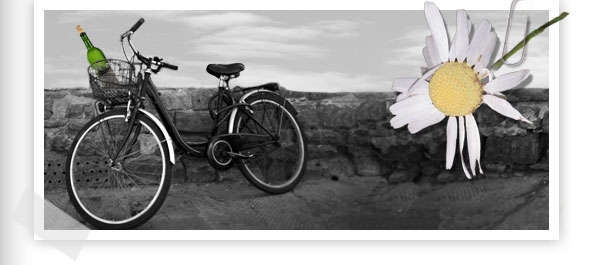 Old Fashioned Cooking And The Humble Crockpot – An Interview With Susanne Myers, The Hillbilly Housewife
Posted on Thursday, November 11th, 2010
What do old fashioned cooking and crockpot cooking have in common? More than you might guess.
I am honored to have my friend Susanne Myers stop by for a little chat about her fabulous website, HillbillyHousewife.com, and to talk about one of her favorite old fashioned cooking methods – the crockpot.
What? You say the crockpot is NOT old fashioned? The crockpot we know has been around in one form or another since the 1970's when it was considered quite newfangled, indeed. Many of us, me included, had one of the first ones made. Did I use mine? Sure, for a while. Then it ended up in the closet for a decade or so and finally was taken to Goodwill along with the harvest gold electric knife.
Now, a few decades later, the humble crockpot has made a comeback. For many reasons, smart homemakers realize how valuable the crockpot can be in providing good, wholesome meals to the family. These families on the go have discovered that their chaotic schedules and crockpot cooking compliment each other very well.
Yes, busy young families do love their crockpots. But, why does crockpot cooking resonate with older folks like me? Perhaps because cooking food over low heat very slowly is a method of cooking that has been around since the discovery of fire. Moving forward a few years, most of us witnessed our grandmothers and mothers nursing along a slow-simmering soup or stew on the stove top. In other words, even though the crockpot is a relatively new kitchen gadget, it strikes me that the concept is old fashioned. Thankfully, with homemakers like Susanne and her website HillbillyHousewife.com I see a style of cooking that is being handed down to another generation.
Enough of that. Let's get to the meat and potatoes (pun intended) of old fashioned cooking with a crockpot. I've invited Susanne Myers once again to visit us here at RemarkableWrinklies.com and give us her opinion this time about why crockpot cooking seems old fashioned. Won't you join me as I welcome Susanne Myers, The Hillbilly Housewife.
Patti: Welcome to my blog, Susanne.
Susanne: Thanks so much for having me. I enjoyed our last little interview back in March about freezer cooking, and look forward to sharing some crockpot cooking tips with you and your readers this go around.
Patti: I'm glad you could join us. In our last interview about the old fashioned notion of "putting by" food in the freezer, I found out that your old fashioned cooking and homemaking are inspired by some remarkable women in your life. As you said, the grandmothers in your family and your husband's family were hard working women that "made do" with what they had. With your website HillbillyHousewife.com, you are reviving the lost-art of home-cooked meals and, in a way, trying to ensure that these skills are not forgotten.
With that in mind, I see you spend a lot of time on your website talking about the joys of crockpot cooking as a way to serve good home-cooked meals. Does a relatively modern appliance like a crockpot still feel old fashioned to you?
Susanne: The appliance may be new, but the meals I'm cooking in it are still often very old-fashioned. So I guess it's a yes-and-no answer. Slow-cooking has been a traditional way to prepare stews, soups, roasts etc. for centuries. The crockpot just allows me to prepare meals the same way without having to be there to stir the pot.
Let's take a good ol' fashioned stew for example. Our mothers and grandmothers cooked it in a big pot at the back of the stove. If we go back even further in history, that same type of stew was cooked over a fire, so it's a very old-fashioned meal.
Today, I can pop the ingredients into my crockpot in the morning, turn it on low and go about my day. When it's time to eat dinner, the stew will be ready and all I have to do is make a quick batch of biscuits or cornbread and ladle the hot stew into bowls.
Patti: What about convenience? To me, there is nothing more convenient than being able to go right home after work without having to stop at a fast-food place for dinner. Walking into the house with supper ready and waiting seems old fashioned to me, and just nicer. Of course, in my day, my Mom was home watching over a pot of stew all day. Isn't convenience one of the greatest benefits of cooking with a crockpot?
Susanne: Yes, it sure is. Cooking just doesn't get any easier than using a crockpot. Heck, it's simpler than making a box of Mac & Cheese. You literally just dump in the ingredients, put on a lid, and turn it on. Then, in 4 to 8 hours your food is done.
Convenience isn't the only benefit though. Eating a home-made crockpot meal is also a lot healthier than fast food or that pizza you may pick up on your way home when there's nothing planned or prepared.
Last but not least, it's also a lot cheaper to cook something in your slowcooker than to go out and buy those takeout foods or go out to a restaurant.
Patti: Let's talk ingredients. When I was growing up, my Mom knew how to stretch a dollar. She could take a less expensive cut of meat and cook it so it came out tender and juicy. Is a crockpot today's equivalent to a slow oven to tenderize cheaper cuts of meat?
Susanne: Yes, it's the perfect way. In fact one of my favorite ways to cook a roast is to buy whatever cut of meat is cheapest that week, put it in my crockpot and then just add some beef broth, some onion soup mix and a can of beer. I use store-brand versions for all those ingredients, making it a very inexpensive meal. The juices from the meat and the other ingredients make delicious thin gravy. I serve this over rice with a salad or a can of green beans on the side. It's a wonderful Sunday Supper and there's always plenty of meat leftover for sandwiches and casseroles later in the week.
Patti: So, overall, you're saying that if a person wants all the old fashioned goodness of a home-cooked meal without standing in the kitchen all day, the easy answer is start cooking with a crockpot. Is that right?
Susanne: Yes, that's right. I'm sure you have quite a few readers who have a crockpot sitting in a back cabinet right now and aren't using it because they don't know how. I'd like to encourage you to dig it out, put it on the counter and cook a meal with it this week. If you don't have a crockpot anymore, you can find one very inexpensively at a resale or thrift shop. Although, I have to say the prices are coming down all the time on new crockpots, so they are becoming more and more affordable for every budget. It's worth checking into the features and prices of the new models.
Patti: Thank you so much for stopping by, Susanne, and giving us your views on what I consider this old fashioned, though thoroughly modern, method for cooking great meals like Mom and Grandma used to make. It's been a treat having you here again.
Susanne: My pleasure. Thank you for inviting me.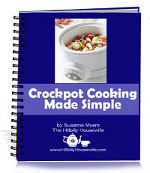 It's time to dust off your crockpot and get it working for you again. After all, you've got better things to do than stir a pot all day! And Susanne's Crockpot Cooking Made Simple guide is the perfect tool to get you started and keep you cooking.
This guide walks you through everything you need to know about crockpot cooking from choosing a new crockpot to turning old favorite recipes into crockpot recipes.
And when you order Crockpot Cooking Made Simple you'll also get Susanne's Crockpot Recipe Collection. Wouldn't this make a wonderful addition to your cookbook collection? Or how about a gift for a new homemaker, newlyweds, or new parents? These are ebooks that are emailed to you and ready to download instantly. You can save them to your computer or print them out and put them in a binder to keep in your kitchen or give as a gift.
I'm getting ready to throw supper together right now then head out the door for a bike ride. Can't wait to come home to those slow cookin' aromas… how 'bout you?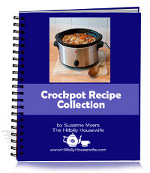 Click on the link and order today.
p.s. If you enjoyed our interview, be sure to visit Susanne at HillbillyHousewife.com. Susanne brings her readers back to a time when homemaking was an art. I, for one, appreciate her efforts because in doing so, she is not only helping young people live a frugal lifestyle, but she's helping all of us preserve our heritage.
p.p.s. While you're there, be sure to sign up for Susanne's newsletter. It's FREE and you'll be the first to know about any great articles or specials that Susanne is featuring.
p.p.p.s. (Is there such a thing?) If you have a fond memory of cooking with Mom or Grandma, share it here in a comment please. I always love to hear from you!
Subscribe to RemarkableWrinklies.com by Email
11 Responses

to
"Old Fashioned Cooking And The Humble Crockpot – An Interview With Susanne Myers, The Hillbilly Housewife"
Leave a Reply