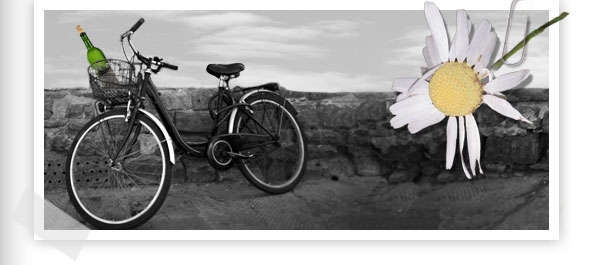 Old Fashioned Cookie Swap With A Modern Twist
Posted on Monday, December 14th, 2009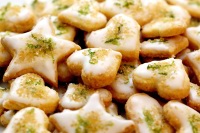 The women in my family have enjoyed a traditional cookie swap or cookie exchange for many years now.  We are fortunate to have several generations  for our cookie baking day – the grandmas, aunties, daughters, nieces, and granddaughters – even some Greats and Grands among us!  Needless to say, it is a full house with lots to do!
It is also a day for sharing a variety of cookie and candy recipes, some old, some new.  The method we use for our cookie swap has always remained the same; the elders gather at one house early in the morning to get things going, then the youngsters come a little bit later to start forming the treats and start the cooking.  Everyone brings a tin or platter, and as the cookies and candies are completed, they are sorted and sent off with each family.
This whole idea of a cookie exchange is very old fashioned.  Back in the old days when families lived close to each other, sometimes working the same farm or other industry, it just made sense to pool your resources and gather at one house for a day of baking.  Why heat up two ovens in two houses?
Besides the economy and convenience of a shared baking day, everyone wanted to make Grandma's Snickerdoodles or Auntie's Peanut Brittle, so why not just have them come on over with their recipes in hand?  So, the Cookie Swap was born.
As the world gets smaller, we have even more opportunities to develop cookie swaps.  Perhaps on a world wide web.  Enter the internet.
My friend Susanne at Hillbilly Housewife.com has initiated an old fashioned cookie swap with a modern twist.  Why not get together with some of our favorite cooking friends and share recipes on each other's websites?  Great new twist on a great old idea!  Please click on the graphic here and check out the Cookie Swap that  Susanne and fellow enterprising cookie bakers are sharing with us!

With that said, I'd like to share a couple recipes that our family has made for years in our own cookie swap.  I hope you will enjoy these little treats when you get together to share your cookie baking day with your own family and friends.  Enjoy!
Aunt Babs' Tiny Green Wreaths
These treats are special in my family for two reasons.  My older sister owns a nice wreath shop, at which, after our cookie baking day is over, we complete the day with a trip to the wreath shop where each youngster decorates their own real green wreath and takes it home.  And, my younger sister developed her own version of  the corn flake wreath, which is not only yummy, but she prides herself in having hit on the perfect project to keep lots of little hands very, very busy!
1 stick butter
1 (10.5 oz) bag of miniature marshmallows
1 teaspoon green food coloring (or more to achieve your desired green color)
1 teaspoon vanilla extract
4 cups corn flakes
1 cup rice krispies
Melt a stick of butter in a very large pot over low heat.  Add the whole bag of miniature marshmallows and stir until marshmallows dissolve.  Then, stir in the green food coloring, adding more if you want until you get the right shade of green.  Add the vanilla extract and stir until the color is evenly distributed.
Stir in corn flakes and rice krispies until mixed thoroughly.
To form wreaths, spray everybody's fingers with some cooking spray or rub them with butter.  Drop golf ball size portions onto parchment or waxed paper on a cookie sheet.  Form into circle then using your finger to make the wreath center.  Decorate with cinnamon candies (Red Hots) to look like holly berries.  Work quickly so the wreaths are still warm enough that the candies stick.
This is an assembly line job for little hands; one youngster makes wreaths, another quickly puts berries on.  I've also seen where you can use a dab of prepared vanilla frosting to hold the candies in place.
Place in a cool area to dry completely. These treats are awfully gooey and will stick to each other, so be sure to separate them with parchment paper when you store them.
Sweetie's Turtles
I developed this simple turtle recipe when I owned a candy shop.  I tweaked the recipe quite a bit until I came up with a very simple method using quality products available to me for the perfect tasting turtle.  These turtles became quite popular and with the closing of my candy shop, many folks mourned their passing.  Whenever I go back to my hometown I am still asked when I'm going to make some more turtles!  This is the recipe that I make for our family's cookie swap.
2 (16oz) bags pecan halves (you'll have some leftover)
popcorn or nut salt (you'll find this with the popcorn at the grocery store)
24 Knudsen caramels (or other quality caramels – cut in half)
3 to 4 cups finely chopped Ambrosia chocolate (or other quality milk chocolate or coating chocolate you like)
2 baking sheets covered with parchment paper (do not use waxed paper as it will tend to stick to the caramel and chocolate)
makes 48 turtles
The secret really is the salt, as well as using better quality caramel and chocolate.  Empty each bag of pecans onto two baking sheets.  Then sprinkle your popcorn salt generously over the nuts.  Set your oven to 200 degrees.
Unwrap your caramels and lay them on a cutting board.  Cut each caramel in half.  Put each half, one at a time, in the palm of your hand and using your other palm, flatten the caramel out.  Place the flattened half on top of the pecans and continue, one at a time, until you have arranged the caramels over the pecans –  4 across, 6 down.  You'll be making two baking sheets full.
Set the pecans covered with caramel pieces in the oven and watch closely.  When the caramel melts down take them out and let the caramel cool.  Put the second sheet of pecans and caramel in the oven and repeat.  They melt fairly quickly so check after 3 or 4 minutes.
Now, comes the chocolate.  As the caramel is cooling, start melting your chocolate.  Here's my preferred method.  Use a double boiler.  (If you don't have a double boiler, use two sauce pans or a sauce pan and glass or stainless bowl that will set inside.)   Fill the bottom with water, bring the water to a boil and REMOVE FROM HEAT.  Then, place insert in bottom.
Put most of your chopped chocolate in the insert and start stirring.  (Reserve a handful of the chopped chocolate for later.)  Be sure you don't slosh any water over into the chocolate.  Keep stirring the chocolate constantly with a big rubber spatula until the chocolate has melted, then remove the insert from the bottom of the double boiler, throw in your handful of reserved chocolate,  and continue stirring until the added chocolate has melted and continue stirring until the chocolate feels just mildly warm.
Tip: Adding the reserved chocolate to the melted chocolate "tempers" the chocolate and helps it cool down to keep its shine.  If you see white spots in your chocolate it got too hot.  You can fix that by scraping the chocolate from the double boiler insert onto a piece of parchment paper and letting it cool completely.  Then chop it back up again, and repeat the process, being careful not to let it get too hot.  Be  sure to add some cool chocolate to the melted chocolate in the final step.
When your chocolate appears melted but no longer hot, you are ready to top your turtles.  Using two spoons, dip one into the chocolate, hold it over the caramel, and use the second spoon to slide it onto the top of the caramel.  Take the back of the first spoon and just press down onto the chocolate with a light touch to encourage the chocolate to puddle down over the caramel.  The object is to cover the caramel top completely.
Don't play with the chocolate too much or it will start to set up funny.  Just plop and press, then move on to the next one.
Once all your turtles have their chocolate tops, you can cool them down quickly by setting the baking sheet in the refrigerator or freezer, but only for a minute.  Otherwise you'll get sweaty turtles.  Even if you cool them in the freezer or fridge, you'll still need them to continue setting up in a dry cool area for a while.  I had a pantry closet without heat that worked well, especially in the winter.
When they are completely cool and the chocolate is solid again, just remove them from the parchment paper and you're done.  To transport, line a box or tin with parchment paper and lay a single layer of turtles on the bottom, then top with more parchment paper, lay another single layer on top, and so forth.  You don't want the caramel on the bottom of the turtle to sit on another turtle or they'll stick together.
For a special gift, you can find food quality plastic bags at any party store in the candy making section.  Put an  individual turtle in a bag, wrap with a pretty ribbon, and you have a much appreciated gift!
I know Remarkable Wrinklies is not, per se, a recipe or cooking website.  However, the whole concept of a cookie swap is so old fashioned that I feel my readers can relate to it very well.  Most of us probably remember participating in our Grandmother's or Mother's cookie baking day, and if we're lucky, we still continue with this tradition, even if the faces have changed.  Somethings never change though, and that is the recipes and the memories.  Enjoy your cookie swap!
Subscribe to RemarkableWrinklies.com by Email
20 Responses

to
"Old Fashioned Cookie Swap With A Modern Twist"
Leave a Reply